An Outdoor Venue in the Heart of Downtown Shelbyville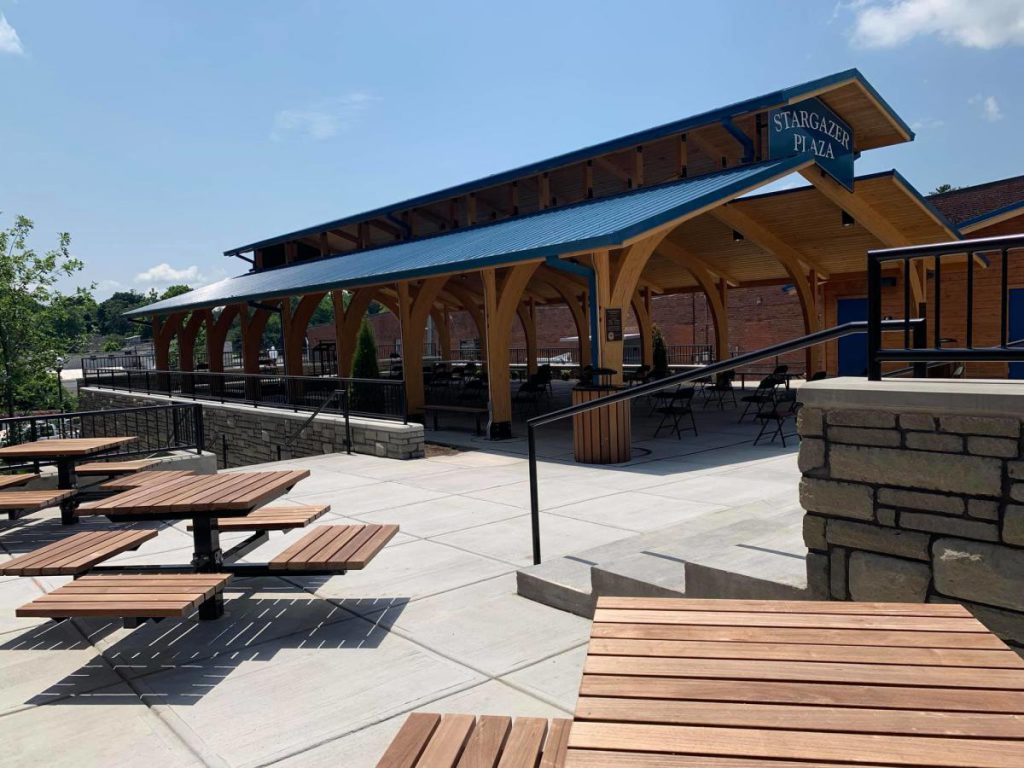 Are you looking for the perfect outdoor venue for your next event? Look no further than Stargazer Plaza, located in the heart of downtown Shelbyville, Kentucky!
Stargazer Plaza is available for private events through ShelbyKY Tourism and is the ideal venue for concerts, events and programs.
The Plaza includes a stage, restrooms on the Main Street side and a small parking lot on Henry Clay.
If you're interested in booking Stargazer Plaza for your event, you can request a quote below.
Your Ideal Outdoor Venue Awaits!
The unique architectural design of Stargazer Plaza makes it a standout location for any event! Additional seating available outside the pavilion allows your guests to enjoy the beautiful outdoor setting of this one-of-a-kind venue.
Frequently Asked Questions
Are restrooms available at Stargazer Plaza?
Yes, restrooms are available during private events. In addition, the restrooms are available and open to the general public Monday–Friday, 8 AM – 4 PM.
Do I have to rent the Stargazer Plaza?
Yes, if your event is private, ticketed, or closed to the public. Contact us for more information or complete the form below for rental information.
Are tables and chairs available?
Tables and chairs are included with all private facility rentals. Contact us for more information or complete the form below for rental information.
How much does it cost to rent the Stargazer plaza?
A two-hour rental is $200, and a full-day rental is $350.
Is alcohol allowed?
Yes, alcohol is allowed. Please note that all alcohol must be served in accordance with all state, local, and ShelbyKY Tourism regulations. Please contact us to discuss alcohol policies.
What are the hours available to rent Stargazer Plaza?
Stargazer Plaza is available to rent from 10 AM to 9 PM Sunday through Thursday, and 10 AM to 11 PM Friday and Saturday. If your event requires different hours than those above, please contact us to discuss your event.
Is electricity available?
Yes, standard household-style electric outlets are located within the covered portion of Stargazer Plaza. In addition, 240v outlets are available in the rear parking lot for food trucks, etc.
Where can I park for events?
Parking is available behind the plaza. There are three public parking lots within walking distance of Stargazer Plaza, including across from the plaza on Main Street, directly behind the plaza, and two blocks north on Henry Clay Street.
Looking For A Place To Stay in Shelby County?
Visit our tourism website for information on hotel rooms, bed and breakfasts, and vacation rentals available in ShelbyKY.