Have your event right on the Kentucky Bourbon Trail! From business meetings and banquets to Kentucky wedding receptions and trade shows, the Shelbyville Conference Center has the services, space and hospitality to make your Kentucky event a success! Located just 30 minutes from Louisville, this brand new event space is perfectly situated for any event.  Flexible floor-plans and state-of-the-art technology allow for all groups of any size — from as intimate as 10 guests to as grand as 400  attendees — to gather and celebrate together.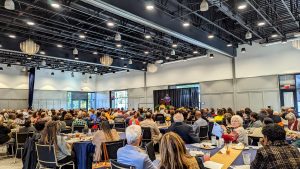 Boasting a total of 16,000 square feet of multi-use function space, the Shelbyville Conference Center is the right choice for any event. Our versatile spaces allow you to create the exact event you want and our staff will help you every step along the way.  Movable walls allow you to have one large event or break down into three smaller events, expanding the possibilities even more for your business meeting, reception or special event. You will love the large windows and the natural light in each area of the Conference Center.  In addition to the meeting space, the pre-function area is spacious and prefect for a meet and greet or pre-meeting cocktail party.
The Shelbyville Conference Center is within walking distance of Shelbyville's historic downtown shopping and dining as well as Shelbyville's beautiful walking and biking trails, iconic restaurants, community theater, boutique shops and art experiences. The charm of downtown Shelbyville is undeniable and your guests will love being so close to all the wonderful shops that can be found just steps from the center.  The Shelbyville Conference Center gives you small town charm but with larger city amenities.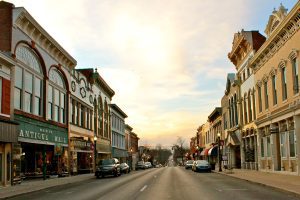 Make your meeting truly memorable and take a trip to two Kentucky Bourbon Trail distilleries located right in Shelbyville. Jeptha Creed and Bulleit Distillery  are both on the Kentucky Bourbon Trail and have activities for both small and larger groups.  Be sure to book a bourbon tasting or tour in advance of your event.  Kentucky is famous for bourbon, and Shelbyville is the perfect place to begin your Kentucky Bourbon Trail adventure.  Of course we have more to do than just bourbon! Your group can enjoy guided horseback riding at Red Fern Riding Center, shopping at the famous Outlet Shoppes of the Bluegrass, the best in golf or just relaxing at Lake Shelby or Guist Creek Marina.
If you are in need of group transportation, the Shelbyville Trolley is absolutely charming and available to rent.  The trolley has seats for about 30 guests and can add a bit of historic charm to your special event. For more information on the Conference Center or Shelbyville Trolley rentals, please reach out to our sales team at (502) 633-6388.