The Premier Event & Meeting Venue in Shelby County, Kentucky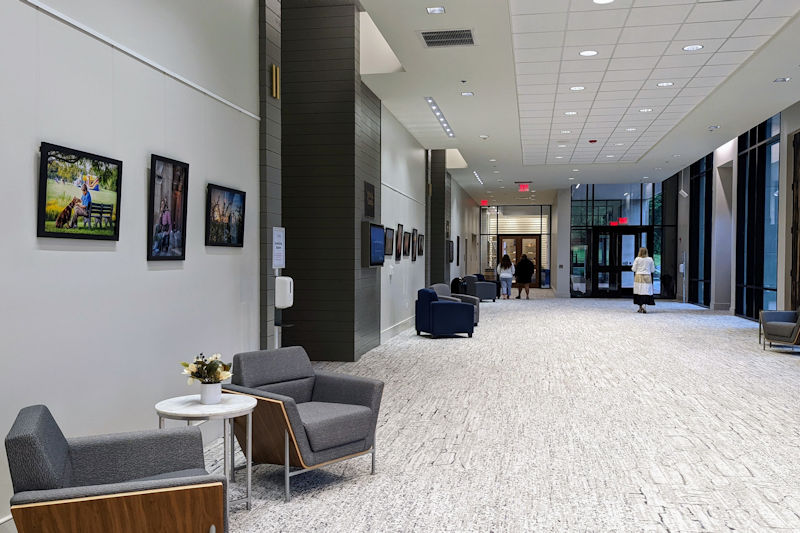 The Shelbyville Conference Center is the premier event and meeting venue in Shelby County, Kentucky. Versatility, beauty, and modern amenities provide a welcoming and accommodating venue for your wedding, party, reunion, or group meeting.
Flexible floor-plans and state-of-the-art technology allow for all groups of any size — from as intimate as 10 guests to as grand as 400  attendees — to gather and celebrate together.
Managed by ShelbyKY Tourism, the center's location at 219 7th Street is central to not only Shelbyville's historic downtown and scenic parks system, but it is also less than an hour from the state's largest cities – Louisville and Lexington.
The Ideal Facility For Your Next Event
Including state-of-the-art capabilities for hosting in-person and hybrid events, the Conference & Welcome Center offers more than 16,000 square feet of space spread over one floor.
With three historic silos as visual centerpieces, the creation of Shelbyville Conference and Welcome Center is a partnership of the City of Shelbyville, Ohio Valley Educational Cooperative, and ShelbyKY Tourism.
Three banks — German American Bank, Republic Bank & Trust, and Stock Yards Bank & Trust — are the named sponsors of the center's large meeting rooms.
Frequently Asked Questions
How many people can the Shelbyville Conference Center hold?
The Shelbyville Conference Center can accommodate groups of up to 400 when arranged in a banquet setting and up to 600 people in a theater setting.
What does it cost to rent the Shelbyville Conference Center?
The rental rate varies depending on the event's size, scope, and scale. Please contact us or complete the Request For Proposal form on this page for an accurate estimate.
Can I have my wedding/party/reunion at the Shelbyville Conference Center?
The Shelbyville Conference Center is a flexible event and meeting facility that can accommodate most event types. Contact us for more information.
Is wi-fi available, and is there a fee?
High-speed wireless internet is available for both exhibitors and attendees. There is no cost to use the internet, though it may be metered depending on the number of active users.
Is parking available, and is there a fee?
Parking is free at the Shelbyville Conference Center, including four parking spots dedicated to charging electric vehicles. Additional parking is available in downtown Shelbyville and is a short walk from the facility. Including street parking, more than 400 parking spots are available throughout downtown Shelbyville.
What are the nearest airports to the Shelbyville Conference Center?
Are there hotels or Airbnbs nearby?
More than 500 hotel rooms are available in ShelbyKY, many of which are less than a 10-minute drive from the Shelbyville Conference Center. In addition, there are 65+ vacation rentals like Airbnbs and VRBOs available in ShelbyKY. Click here for a list of available lodging.
Do you offer event planning services?
The Shelbyville Conference Center team is dedicated to making your event a success, but we do not offer event planning services. We are more than happy to provide contact information for experienced, local event planners if desired.
Can I tour the facility before booking an event?
Yes, our Sales Coordinator would be happy to schedule a walk-through of the facility and discuss your event. Contact us via our website or call (502) 633-6388.
Is the Shelbyville Conference Center handicap accessible?
The Shelbyville Conference Center is ADA compliant, and there are multiple means of accessing the facility for persons with disabilities. Please let facility staff know of any specific accommodations needed prior to your event.
Looking For A Place To Stay in Shelby County?
Visit our tourism website for information on hotel rooms and vacation rentals available in ShelbyKY.