A Historic Trolley With Modern Comforts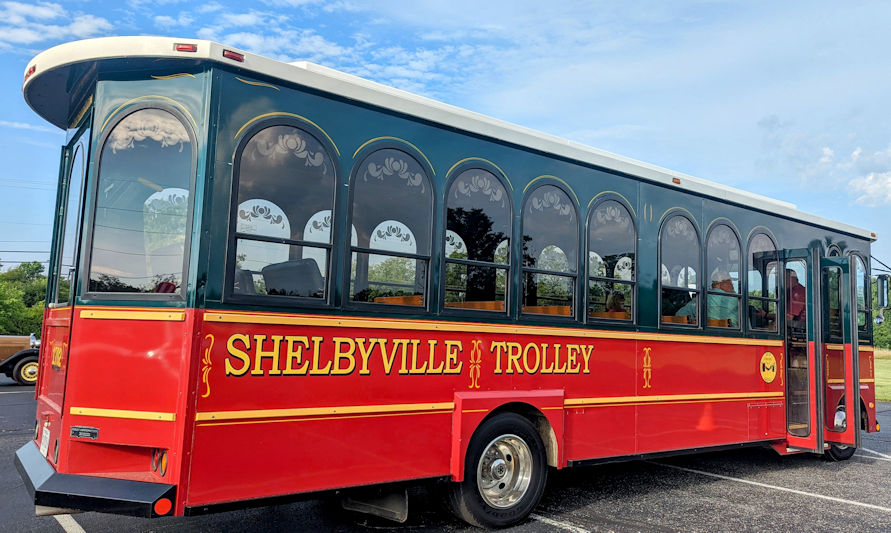 The Shelbyville Trolley is inspired by the historic trolleys of days past.
Arched windows, intricate decorations, and even a bell invoke images of decades ago. Inside, however, modern comforts allow groups of up to 34 to experience ShelbyKY in comfort.
Tour distilleries, wineries, farms, and the state's only designer outlet mall.
If you need transportation for your group to or from the Shelbyville Conference Center, Stargazer Plaza, or any of our local attractions, please request a quote!
Your Group Can Travel In Comfort & Style!
The Shelbyville Trolley is available for all types of events!
Frequently Asked Questions
How many people can the Shelbyville Trolley hold?
The Shelbyville Trolley can hold up to 24 passengers.
What does it cost to rent the Shelbyville Conference Center?
The rental rate is $150 for the first hour and $50 for each additional hour, with a minimum two-hour booking. Fuel and a driver are included in the rental fee.
Can I use the Trolley for my wedding, reunion, or party?
The Shelbyville Trolley is available for all types of events. Note that food or alcohol are not allowed to be consumed while on the trolley.
Can the Trolley leave Shelby County?
No. The Trolley is only authorized to operate in Shelby County, Kentucky.
Can I see the Trolley before reserving it for my event?
Of course! Our Sales Coordinator would be happy to schedule a viewing of the trolley and discuss your event needs. Contact us here or call (502) 633-6388.
Is the Shelbyville Trolley handicap accessible?
The Shelbyville Trolley features four handicap-accessible benches and two wheelchair spots,
as well as a wheelchair lift. Please let the Sales Coordinator and/or the Trolley Driver know of
any specific accommodations needed prior to your event.
Looking For A Place To Stay in Shelby County?
Visit our tourism website for information on hotel rooms and vacation rentals available in ShelbyKY.